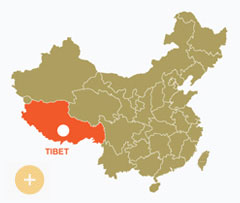 Jiama Copper Gold Polymetallic Mine
The Jiama project is one of the largest copper gold polymetallic mines in China. The Jiama project is located within the Gangdise Copper Metallogeny Belt in Central Tibet, China and is approximately 60 kilometers east of Lhasa City along the Sichuan-Tibet Highway. The Jiama project is a large scale polymetallic deposit consisting of copper, molybdenum, gold, silver, lead and zinc.
The Company acquired the Jiama project on December 1, 2010 concurrent with the closing of its initial public offering and listing on the Stock Exchange of Hong Kong Limited. Commercial production began at the Jiama project in September 2010.
Phase I development was completed at the Jiama project in 2010 and included two open pits, a processing plant and an underground ore transportation system.
Phase II expansion started commercial production on July 1, 2018. Jiama Mine's Phase II consists of two series, Series I and Series II, each having a mineral processing capacity of 22,000 tpd. The full design capacity of ore processing at Jiama Mine will increase to 50,000 tpd from the previous capacity of 28,000 tpd once Series II reaches full design capacity.
During the year ended December 31, 2020, the metals recovery rates increased significantly, with increases by 3% for copper, 10% for gold, and 6% for silver, based on the continued optimization of operating parameters regime of reagents, and the amelioration of steady flowsheet, as well as recoveries of lead, zinc and molybdenum.
Copper Production in 2020 is 180,909,850pounds (~82,059tonnes).
Copper Production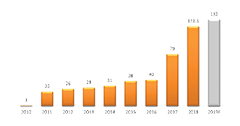 Click to Enlarge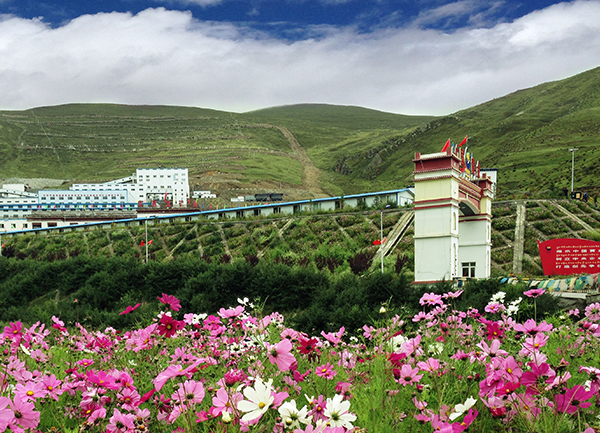 Mining Made Green.
Click Here to take a look at our Social Responsibility Report
Highlights
Open-pit and underground mines operation
A large, skarn-type and porphyry copper polymetallic deposit with well-developed hornfels-type mineralization located in the Gangdise Copper Metallogeny Belt
Principal product: Copper with gold and silver credits
Expected life of mine: 35 years
According to the feasibility study, production is expected to grow to 176 million pounds of copper per year when reach full design processing capacity
RECENT UPDATES:
2021 Q3 Financial Performance Snapshot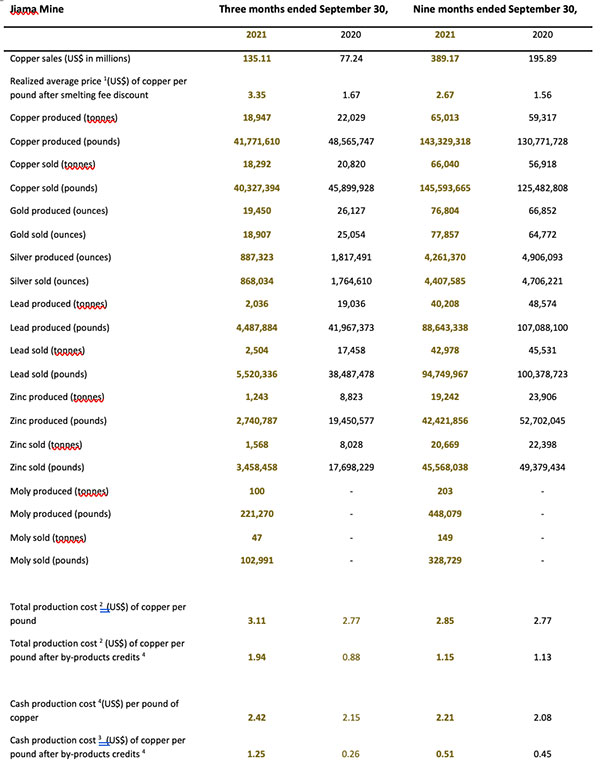 A discount factor of 13.4% to 26.4% is applied to the copper benchmark price to compensate the refinery costs incurred by the buyers, mixed copper concentrate containing lead and zinc have an average discount factor of 69% - 71%. The discount factor is higher if the grade of copper in copper concentrate is below 18%. The industry standard of copper in copper concentrate is between 18-20%.
Production costs include expenditures incurred at the mine sites for the activities related to production including mining, processing, mine site G&A and royalties etc.
Non-IFRS measure. See 'Non-IFRS measures' section of this MD&A
By-products credit refers to the sales of gold and silver during the corresponding period.
During the three months ended September 30, 2021, the Jiama Mine produced 18,947 tonnes (approximately 41.7 million pounds) of copper, a decrease of 14% compared with the three months ended September 30, 2020 (22,029 tonnes, or 48.6 million pounds).
Both total production cost of copper per pound after by-products and cash production cost of copper per pound after by-product increased as compared to the same period in 2020 due to lower head grades,and less by-products recovered of lead and zinc.
Taking advantage of high metal prices in the third quarter of 2021, the Jiama Mine increased the utilization rate of low-grade ores with operating costs being strictly controlled. A flexible mining plan was adopted which is responsive and tailored to the market conditions. The flexible mining plan can effectively maintain the stability of the Jiama Mine's operation results and reduce the impact and risk of metal price fluctuations to ensure sustainable growth in operation performance.
2021 Q3 Production Update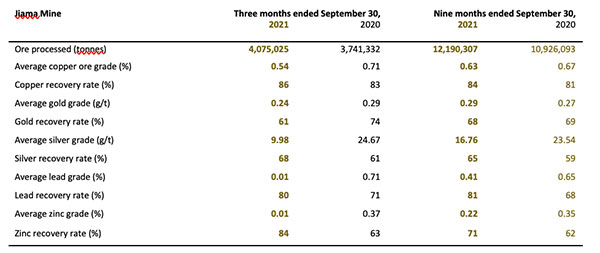 During the three months ended September 30, 2021, the metals recovery rates increased by 3% for copper, 7% for silver, 9% for lead and 21% for zinc, and decreased 13% for gold. The improvement is mainly due to the continued optimization of mineral processing operations including regime of reagents, and the amelioration of steady flowsheet. In addition, the recovery of molybdenum was increased from processing more copper-molybdenum ore.
Mineral Resources Estimate
Jiama Project - Cu, Mo, Pb, Zn ,Au, and Ag Mineral Resources under NI 43-101 Reported at a 0.3% Cu Equivalent Cut off grade*, as of December 31, 2019

Mineral Reserves Estimate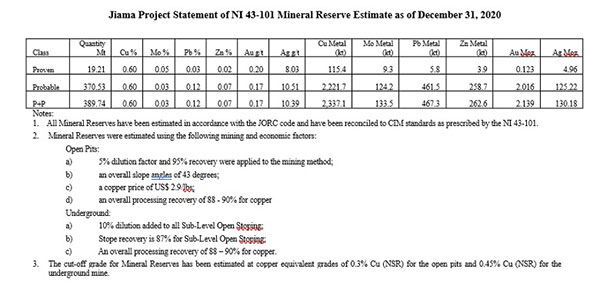 Notes: all Mineral Reserves have been estimated in accordance with the JORC code and have been reconciled to CIM standards as prescribed by the NI 43-101.
Click here for 2021 Q3 news release
LOOKING FORWARD:
Exploration
The 2021 exploration program for Jiama Mine plans for 12 drill holes totaling 17,418 meters. The program focused on extremities of the Jiama deposit. As of the third quarter of 2021, a total portion of two drill holes for 216.33 meters have been completed, with the remaining ten holes pending the leasing approval of land to serve as temporary exploration access roads.
Guidance Highlights for 2020:
Projected copper production of 177 million pounds in 2021.
The Company continues to focus its efforts on optimizing the operation at both mines, stabilizing the Jiama Mine's production and potentially extending the mine life of CSH Mine.
To fulfill its growth strategy, the Company continues to work with CNG and other interested parties to identify potential international mining acquisition opportunities.
The Company has not experienced any significant impact on its operations from the COVID-19 pandemic. Both of the Company's mines have been able to operate and sell products without significant interruption during the nine months ended September 30, 2021. The Company continues to closely monitor the health of its employees and supply chains to be able to respond to any potential disruptions, should any arise. The Company is also managing its cash reserves to be able to withstand any financial ramifications of potential disruptions.
Photos