On Monday March 3rd, Jay Chmelauskas, President of Jinshan Gold Mines, and Mr. Wang Min, Vice-Minister of the Ministry of Land and Resources, The People's Republic of China rang the opening bell on the Toronto Stock Exchange.

Mr. Chmelauskas and Mr. Wang were joined at the TSX ceremony by members of Jinshan's management team, senior executives from the Ministry of Land and Resources and other representatives of the Chinese mining industry.

Jinshan was well represented at the Prospector and Developers Conference during the week in Toronto. PDAC is one of the world's largest mining conferences and attracted approximately 20,000 attendees.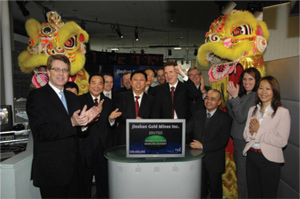 Kind regards,
Deanna Kress
Investor Relations
Jinshan Gold Mines